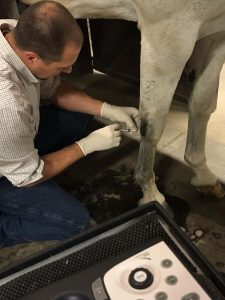 Lameness and Sports Medicine.
Soundness of your horse is critical for your horse's peak performance. We offer comprehensive lameness exams to identify the source of discomfort or dis-function within your horse's musculoskeletal system. We offer a variety of therapy options to treat lameness issues and to keep your horse competition ready. The therapy options are tailored to the specific source of the lameness and frequently vary based on individual horse and owner goals.
Pre-Purchase Exams
Whether you are looking for a horse to use for competition, pleasure, or breeding, it is important to have your prospect thoroughly examined to determine if they will best fit your needs. A pre-purchase exam will provide you with the information needed to make a knowledgeable decision on your purchase.
All exams include a thorough evaluation of the horse's conformation, a physical exam from head to tail, and a comprehensive soundness evaluation. Each exam will be custom-tailored to your horse and may include digital radiographs, digital ultrasound, endoscopic evaluation, drug testing, and/or reproductive exam.
Once the pre-purchase exam is complete, the doctor will present you with the findings of the examination and recommend additional tests and images based on the results. Your veterinarian will be able to discuss any concerns with current or future problems that could affect the horse's performance or intended use. Although the veterinary exam is only one part of the decision to buy a horse, investing in a pre-purchase exam can help you identify a horse that will meet your expectations.

Surgery Services
Staffed with two board certified equine surgeons and registered veterinary technicians, Momentum Equine offers elective surgical services including:
Arthroscopy and tenoscopy
Castration, including cryptorchid
Laceration repair
Dental and sinus surgery
Airway surgery
General soft tissue surgery (mass removals, urinary tract surgeries, umbilical surgeries)
Standing procedures
Laparoscopic procedures (including cryptorchids, ovariectomies, nephrosplenic space closure)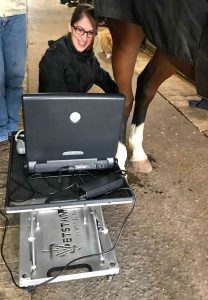 Diagnostics
Digital Radiography
Digital Ultrasonography
Endoscopy
In house bloodwork
External laboratories (coggins, stem cell, specialty tests)
Herd Health and Wellness
Dentistry
Deworming
Vaccinations